Marcely's Bedwars is one of the largest and one of the most maintained Bedwars plugin out there. Since its release in October 2015 the plugin has evolved from a fun project whose owner created it for his own server into a large project that's being used and adopted by many server owners. Reasons for the plugin to stand up from others are its community and their readiness in helping newbies, its optimized and regularly written code, and its extensiveness. Not only is the plugin very configurable it also has a large API that's being used by developers to extend the already major core to their needs.

Bedwars nowadays is a classical Minigame and a standard on lots of servers.
In there, your goal is to strategically compete in a team against your enemies, however, to also protect your own bed.Your bed is your life source in this game, so if it's gone and you die you'll be eliminated.
The maps are similar to those from SkyWars, so the map usually consists of flying islands. But instead of chests, there are spawners on the island which spawn resources, with which you can buy yourself blocks to actually build yourself forward or weapons to defeat yourself. Read more about it on our wiki.
Unlimited amount of active arenas on a single server
Supports BungeeCord & Standalone (Single non-network server)
Supports SQL
Supports various CloudSystems
No dependencies (No, for real. You don't even need WorldEdit to utilize all features)
Includes 29 language files (Managed by the community, you may even add your own one)
Well documented and modern Wiki
Custom automatic update checker
Issue tracker – if something is not right with a plugin or configuration, the plugin informs you about the exact problem!
Includes a Doner Kebab ( not a real one tho 😉 )
Includes "unfunny" jokes
Smart systems to retain a high TPS, such as a threaded ticker that takes load from the main thread into a separate thread/cpu core
Mapvote system that works flawlessly with the multi-arena system
Extremely customizable (12 Separate Configuration Files, Main Configuration is ~1000 lines long)
Super simple arena creation and customization
Use either commands or the Setup GUI that helps you through the setup with every step
Various arena types:

Region: Stable & efficient regenerator, has a border
World: Uses the whole world, slightly less efficient
World (SWM): Same as world, only uses SWM (more efficient)

Create any type of arena (Solo, duo, trios, quad, etc…) or even with literally 100 players per team, if you wish
Have any amount of teams for your arena (up to 15, limited by Minecraft's colors 😉 )
Icons (for the arena join GUI's)
Set Map builder author(s)
Set minimum players
Super Fast Regeneration Times – usually takes less than 2 seconds (No TPS Drops)
Rejoining (works flawlessly with BungeeCord as well)
Arena picker – An advanced feature which lets you create different ways of joining into specific arenas (Documentation)
Arena join GUI's (Documentation)
Ranking signs, skulls and statues
Has an Ecosystem consisting of Templates and Add-ons (Explore)
Massive API (JavaDocs)
Does not affect performance
Supports a lot of plugins (view the list below)
Achievements!
Customizable Sounds
Player Stats: Wins, Kills, Ranks, Deaths, Final Kills, Bed Destroys, Play Time, Win Streaks and even add your custom ones using the API!
Stats Hologram
Configurable Hotbar items in the Lobby
Support for different Types of NPC's (Villager, NPC[self] – Uses your own Skin ,NPC[UUID] – UUID of a Player, ArmorStand[Parameters] – Parameters for rotating arms and feet)
Extremely customizable spawners
You can use every item as a resource and create as many as you want
Set any time as an interval
Display holograms (Spawner Name, Block & Time until Next Drop) above item spawners
You can drop multiple resources from a single Spawner
You can add a custom spawn sound and particle effect
If a Spawner has dropped X Amount of Items, it will stop spawning them until they are picked up
Community created addons and custom configuration files
They are available on the official MBedwars website
Extremely configurable shop
Choose between multiple Design Templates (Normal, Hypixel, HiveMC, GommeHD, Rewinside, Minesucht, BergwerkLabs, HypixelV2)
You can show Bedrock Players (Over GeyserMC) a different Shop Layout
Create custom items (Auto Bridges or PopUpTowers and more)
Add Enchantments from Sharpness 1 to Efficiency 32767
Multi resource support (you can make X resources needed to purchase an item)
Multi item support (Only 1 item is Displayed in the shop, but if you buy it, it gives you x Amount.)
Special items (Rescue Platform, Mobile Shop, TNT Sheep, Fireball, Guardian, Magnetic Boots, Base Teleporter, Bridge builder tool, player tracker, trap)
You can give every Item a custom Description (Lore)
Upgrades Shop
2 Shop layouts (Normal and "old" Hypixel (new one comming soon))
You can modify the UpgradeName and Description
Set custom prices, icons, modifier for upgrades
You can have as many upgrade levels as you want
Hide player armor when using invisibility potions
Allow players to spectate active matches
Break the lobby with the start of a match
Have a custom bed block (something else than the bed, you could theoretically even play eggwars)
Custom death messages
Security features (prevent your staff from cheating, anti /tpa, /home etc. features)
Give players prizes
Manually define the performance usage using following parameters: Very Low, Low, Normal, High, Ultra
Customize the GUIs
Have signs, holograms or NPCs for joining an arena
Advanced chat customization
Tons of placeholders for PAPI
Migrate from other Bedwars plugins
Support for hex colors
We support all versions from 1.8.8 up to the latest one and we won't ever remove any version in the future
*phew* and a lot more!
Thanks to @ItsPat and @LeNinjaHD for helping me with this list 😀

This is the list of (almost) all the plugins/software we consciously added into the source code. By this, we're able to provide a further stable and extensive experience. You may of course have more plugins on your server than those listed here. The plugin generally tries its best to not cause any interferences.
* We try our best to support as many forks as possible, and it's likely that your fork will work with our plugin. However, keep in mind that there's a chance that it won't work as with any plugin. You'll have to switch to an other server .jar if that's the case. PaperMC and SpigotMC are generally fully supported.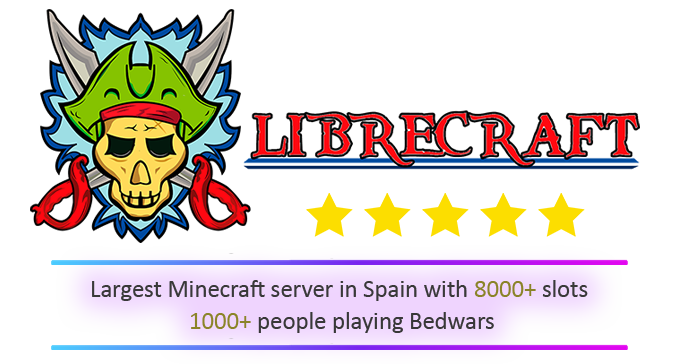 "It is a pleasure to work with Marcel, the plugin presents an optimized and stable system that allows us to offer the game to hundreds of users. In addition to being very complete and customizable, ideal for any type of server. To highlight the excellent support and response time for bug fixes." – Alex, CEO of Librecraft.com







We take user-friendliness and QoL features extremely important. Thus, you will find a bunch of miscellaneous features that make us stand out from the alternatives. One example would be the setup wizard: A literal website in which you are able to set up the plugin. In there, you are being brought to the world of MBedwars through step-by-step instructions. One of the steps introduces the choice of whether you would like to have a template called "HyPixel" preinstalled. You may also choose another variant created by us if you instead would rather have a unique experience. You may read more about it on our wiki: https://wiki.mbedwars.com

Then prepare yourself for the fairyland you're about to face. Not only is the API itself already huge and extremely modular, it was also designed to be easily usable by everyone. We have spent lots of time in describing as much as possible in the Javadoc, making it easier for you to reach your goal. Don't hesitate to contact us if you've got questions.